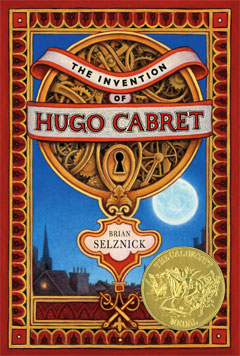 Author/Illustrator
: Selznick, Brian
Publisher and Date
: Scholastic Press 2007
Genre
: Illustrated Novel, Historical Fiction
Age Range
: 4-6 grades
Awards
: Caldecott Award Winner 2008
Summary
: This book is about an imaginative young orphan boy named Hugo Cabret who lives behind the walls of a train station in Paris. He steals from local shops to survive keeps the clocks running to cover the disappearance of his uncle. Hugo's stealing brings him in the path of a famous magician and filmmaker,
Georges Méliès
who has tried to shut his past out of his life. Hugo is able to help bring Méliès' past back to life and Méliès gives Hugo a home and a family.
Response
: I absolutely loved this book! Selznick's illustrations are so detailed and captivating, it made the book seem like a movie with subtitles. I like how it tells the reader to picture yourself in a theatre before the movie starts. It brought that type of anticipation and had me trying to guess what would happen next.
The description in the book was very well done! I loved the pages that described the automaton. It made me feel like I was right there watching it draw out the picture of the man on the moon with the rocket in it's eye.
I enjoyed the incorporation of actors, movies, and machines of the time. It made the story more realistic and had you learning some history without digging into a history book.



Some of the actors included

:






I liked the extra information Selznick included at the back of the book. A link he provided shows a video of an
automaton
in action. I also looked up some of Méliès' movies on the internet and found a video of
A Trip to the Moon
on youtube. It is in French, but it is still really neat to see the actual film.
Teaching Ideas
:
This book could be used as a lesson on the time period and the people that lived in it. Also could be used in an art or film lesson and look at works from that time period and how they differ from more contemporary works. For a more hands-on activity the children could draw or make out of clay their own automaton and write a story about what they would have it to write or draw. They could also reenact the movies mentioned in the book from their perspective. These could all be performed in front of the class as their own 'Georges Méliès' rememberence day.